Experience tropical fishing during a 4 hours trip !
Departure at 8 am return at 12 am / Departure at 1pm return at 5pm   Maximum 4 people.
 Drinks will be provided on board (sodas, water, beers) Fishing equipment included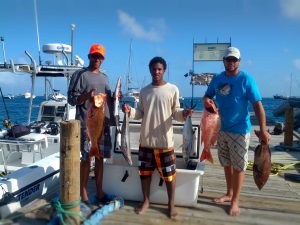 Trawling along the reefs around Union Island – Southern Grenadines, we will look for Barracudas, Kingfishs, Trevallies and other nice tropical fishes !
We can also try jigging along the ledge of Union Island on the leeward site of the island, looking for Groupers, Snappers, Amberjacks in between 40 meters and 140 meters depth.
All the equipment will be provided, but you can bring your own if desired !
If you want to try to beat a new record in the Grenadines Islands, check our Full Day Fishing Trip.